Welcome to the Akashic Archives
You Are Here:
» Welcome to the Akashic Archives

Welcome to the website of Ghasem Batamuntu. Here you will find information and documentaIion concerning the creative projects in which i am involved. I consider myself a -Direct MPAC- artist; mpac being short for -multimedia performance arts concepts-. I perform on diverse instruments in a variety of genre including music styles of all kind, poetry, west afrikan performance arts and media arts. I've organised several performance ensembles to address the diversity of my creative concerns; here you will find insght into each.
"The Nu Nova Compound" is what you could call the musical wing of my creative concerns. It is an ensemble that evolved out of the original band that i headed in the San Francisco Bay Area thru out the 1980's and early 1990's called "The Nova Ghost Sect Tet"; it is the live band that performed with many regional dance companies during that period at theater and festival sites thru out the United States, as well as places like the Jarish International Festival of Arts and Culture hosted by the country of Jordan. It hosted many guest appearances by noted international jazz artist including such innovators as Bobby Hutcherson, Eddie Henderson, Sonny Simmons, Eddie Moore, Eddie Gayle, Eddie Marshall, E.W. Wainwright, Charles Hamilton, Sonship Theus, John Jang, Nate Morgan, Julian Priester, Calvin Keys and a host of others. I moved to Amsterdam in 1992 and began to organise performance ensembles that were an extension of the ideas that originated with "The Nova Ghost Sect Tet". Several bands ensued including -The Starbase 4our Communications Outpost Band-, -The Outter Ring-, -The Nuranus Vortex.- I've recorded a couple of cd's over the course of that time, documenting the activities of that period. "Life on Uranus" was recorded in 1998 by -The Nova Ghost Sect Tet- at Fantasy Studios in Berkeley, California and Studio 51 in Amsterdam for Holland based Challange Records. In 2008 -The Nu Nova Compound- released "A Gift from Trane" for Tahoe Records producer Jefferson Braswell It was recorded in Los Angeles, San Francisco and Amsterdam and included musicans from both continents such as Remco van der Sluis on trap drums and Wolter Wierbos on trombone; both from Amsterdam, and Sonship Theus, Nate Morgan, Onaje Murray, and Dadesi Komolafi, all from from Los Angeles. I've performed with these ensembles in several venues around the planet including The North Sea Jazz Festival, The Bimhuis, The Filmhuis in Holland and at Yoshi's Jazz Pagoda, The Molanga Cultural Arts Center, Koncepts Cultural Gallery, The San Francisco Museum of Fine Arts, and The World Stage in California,The A Trane in Berlin. The band continues performing presently with a personnel that includes: Arjen de Jong, violin; Mark Milan, keyboards; Johnny Tevreden, bass; Remco van der Sluis, traps; Mamur Seck, west african percussion; Louis Perillo, brazillian percussion and continues to host guest appearences by promInent jazz musicans from around the world.
"The Phonetic Engineers" is the ensemble that addresses my literary concerns.
I've had the good fortune to know and interact with some very fine poets including Will Alexander, K. Curtis Lyle, Kamau Daaoud, Ojenke Mapenzi and Nathaniel Mackey; all of whom i met while residing in California.
I've been writting for sometime myself and every oppritunity that presents itself i include a poet in the mix.
I've performed and presented for the famed Crossing Borders Festival and The Dunya Festival in Den Haag and Rotterdam, Holland respectfully. Will Alexander and M.C. Complex joined us for a wonderfull presentation at The Bimhuis in Amsterdam, Holland in 2009. Will Alexander, Curtis Lyle, and Kamau Daaoud are featured on my current recording, A Gift from Trane; availible thru Tahoe Records.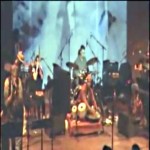 "The Mpac Factor E" is the catalyst for my -Direct Mpac- approach to performance arts; mpac being an abbrieviation of -Multimedia Performance Arts Concepts-. It is my most recent quest to develop an umbrella for all the arts activities which manifest within the orbs and gyrations of my creative concerns. While living in California's San Francisco/Oakland Bay Area thru the 80's and early 90's i worked extensively with the afrikan american dance community as a musical performer and composer, contributing extensively to companies such as the Oakland based Dimensions Dance Theater, under the direction of choreographer Deborah Vaughn. Exposed to the interactive environments of dance and theater arts, and combined with the influences of the performance arts groups of Sun Ra and Horace Tapscott, i concieved of a performance concept and ensemble which i called "The Nova Ghost Sect Tet"; it was the forum of my musical investigations and adventures during that period. I recieved an arts fellowship from the city of Oakland, California, The Creative Artist Fellowship Award, for those activities in 1992 and went abroad to pursue them a bit more extensively.
I've lived in Amsterdam, Holland since 1992 and in that period i have expanded those performance concepts with bands like "The Starbase 4 Communications Outpost Band", "The Outer Ring", "The Nu Nova Compound", and "The Nuranus Vortex". These ensembles have featured international special guest as well as creative personalities from the Amsterdam improvised music community. During this period i have remained increasingly interested in Multimedia Performance Arts, something i call M.P.A.C., because of the direct mpac of the new technology upon the concepts of those whom i now precieve as "creaticians"; because the fragile borders between the genres of expression are now melted and fused into a new gravity field resulting from the new options and possibilities this new technology offers in reshaping the aerodynamics of the current arts colonization. I've been doing multimedai performances with Den Haag based fine artist and film maker Marian Smit for more than a decade now fusing music , dance, film, theater, set design, and poetry into unique and innovative performances…often featuring international guest such as Makiko Goto on Koto from Japan. Major productions include "Within and Beyond Restraint" and "Odyyesus Nu", presented in the famed Den Haag Filmhuis.
So inside this mpac matrix you will find references and links to the diverse domains of my creative concerns. Over the last 30 years i've worked and performed with musicans, dancers, spoken word artists, visual artists, video/film makers, and children in and from many parts of the world including Afrika, the Middle East, South America, Europe and my own communities in the United States, in venues that range from from festivals, theaters, galleries, schools, prisons, clubs, radio, televison, and privite settings; in places as diverse as the Middle East, South AmerIca, the Dutch Antilies, West Africa, Europe, and the United State. This site gives to my creative efforts a sense of relativity that Einstien only began to equate and increases it's power to the inertia of purpose and therefore manifests as real. It's like framing an area of deep space which you have been observing through a microscope of imagination from a far and suddenly find yourself bearthed to the axis of new potential…a new gravity field…a new genre…
So, Welcome to the Akashic Archives..